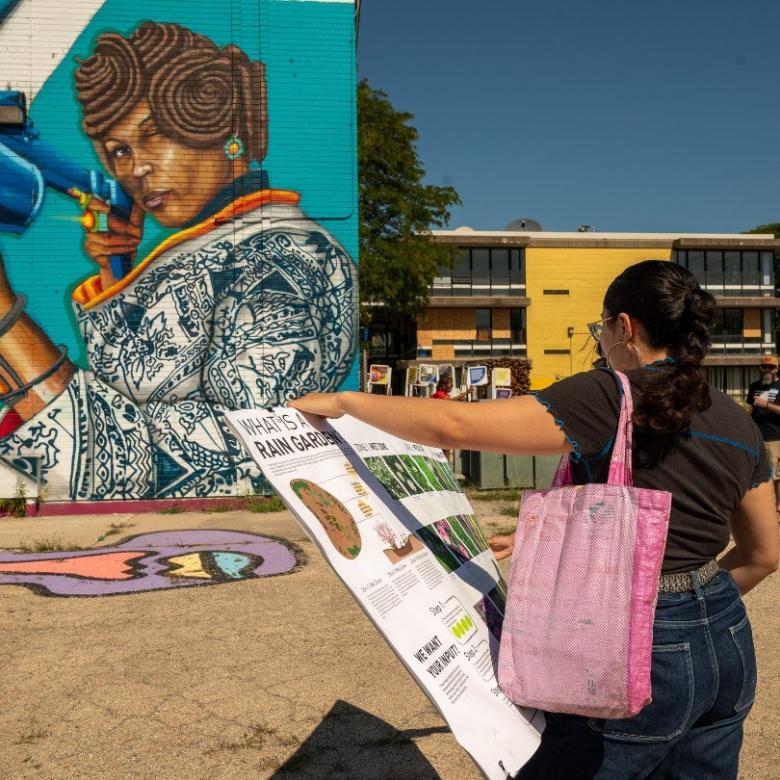 Dedicated volunteer garden stewards gathered at Overton Center for Excellence in Bronzeville on the first day of fall, Saturday, September 23 to bring new life to the rain garden located on the east edge of the former elementary school property, an 8-minute stroll from the 51st Street Green Line station.  
Through our Climate and Cultural Resilience program, recently renamed Nature Near Transit to better capture the essence of the work, CNT helped establish the east-facing rain garden at The Overton Center in 2019-2020. Originally a successful planting, the rain garden now needs reconstruction.  
As sometimes happens, a lack of communication during the COVID-19 pandemic led to other community groups tarping the rain garden's native prairie plants. It's a lesson learned on the need for more signage around rain gardens and to plan for ongoing stewardship.  
The Overton Community Day provided invaluable insights for selecting new plants to add to the rain garden. Volunteers expressed interest in prairie plants that attract birds, plants suitable for tea-making, and plants with staggered bloom times to ensure continuous beauty throughout the growing season. Top contenders: Purple Dome New England Aster and Butterfly Weed.  
The rain garden renaissance is one of many transformative projects at Overton, a Chicago Public School that was among the 40-plus sites CPS closed in 2013. Today, through Borderless Studio's Creative Grounds initiative and the property's ownership by Washington Park Development Group, Overton is incubating projects that are educational, collaborative, and nurture a healthier community. 
The reinstall "is people-centered and caring for the community at its core," says Destiny Brady, program design lead at Borderless Studio and garden steward at The Overton Center. "These wildflowers grow naturally in Chicago soil, just like us. They have so many healing powers, the most we know of them is making us feel good when we see how beautiful they are, but they are capable of so much more." 
Four other Nature Near Transit efforts are ongoing. The others include maintenance at the FarmWorks community garden in West Garfield Park and projects in Logan Square, Albany Park, and Washington Heights. These endeavors underscore community-centered environmental stewardship as a means to improved quality of life.