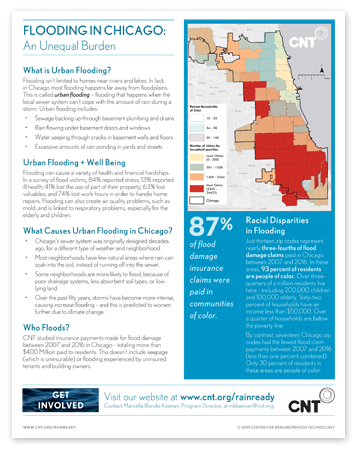 Flood Equity Report
CNT studied insurance payments made for flood damage between 2007 and 2016 in Chicago - totaling more than $400 Million paid to residents. The flood equity report assesses disparities of urban flood risk for households of color in Chicago. Learn More
Download:
Fact Sheet | Full Report
Interactive Map:
Flood Equity Map
What is Urban Flooding?
Flooding isn't limited to homes near rivers and lakes. In fact, in Chicago most flooding happens far away from floodplains. This is called urban flooding – flooding that happens when the local sewer system can't cope with the amount of rain during a storm.
Urban flooding includes:
Sewage backing up through basement plumbing and drains
Rain flowing under basement doors and windows
Water seeping through cracks in basement walls and floors
Excessive amounts of rain ponding in yards and streets
Urban Flooding + Well Being
Flooding can cause a variety of health and financial hardships. In a survey of flood victims, 84% reported stress; 13% reported ill health; 41% lost the use of part of their property; 63% lost valuables; and 74% lost work hours in order to handle home repairs. Flooding can also create air quality problems, such as mold, and is linked to respiratory problems, especially for the elderly and children.
What Causes Urban Flooding in Chicago?
Chicago's sewer system was originally designed decades ago, for a different type of weather and neighborhood.
Most neighborhoods have few natural areas where rain can soak into the soil, instead of running off into the sewer.
Some neighborhoods are more likely to flood, because of poor drainage systems, less absorbent soil types, or low- lying land.
Over the past fifty years, storms have become more intense, causing increased flooding – and this is predicted to worsen further due to climate change.
---
Flood Equity Interactive Map
Explore racial disparities in flooding by zip code in this interactive map.
---