These privately owned pipes, also called "laterals," can cause you problems in the following cases.
Roots, grease, waste, tree roots, or other blockages (e.g., diapers) are obstructing the pipe, preventing wastewater from leaving the house.
The pipes are cracked and leaky, allowing rainwater to enter into the sewer system and exceed its capacity.
Sump pumps, foundation drains, or downspouts are connected to the pipes, exceeding the capacity of the pipe network to carry the waste during heavy rains.
Faulty laterals in your building can affect you and your neighbors. The cumulative impact of several properties with faulty laterals results in significant problems downstream. For example, sewer pipes and treatment facilities were designed to take wastewater alone. It only takes a few failed sump pumps or connected foundation drains to overload the average sewer line, resulting in wastewater backing up into homes or other buildings.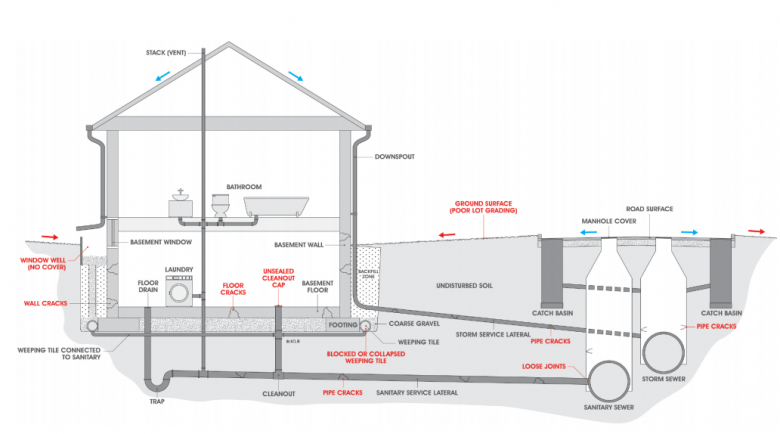 Investigation by a licensed plumber can determine if the sewer pipes on your property are functioning properly. The plumber may use a video camera to determine if the pipes are clogged or damaged and locate the segment of the pipe that needs mending. If there are roots in the drain, you can use a root destroyer twice a year (in the spring and fall) to kill the roots in the pipe.
Municipalities often find that it is more cost effective to help property owners tackle these sewer problems at their source (e.g., by subsidizing detection and/or repair and replacement activities) rather than investing in larger pipes and treatment facilities in the municipal system.
---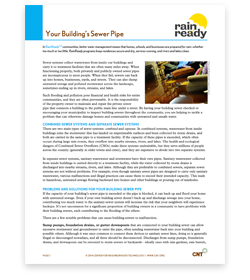 Your Building's Sewer Pipe (PDF)
An expanded version of the information on this page is available as a factsheet.