Climate change has been in the news: The U.S. National Climate Assessment found that every region of the country is affected by climate change already and those impacts are likely to grow—threatening health and property and costing our economy as much as hundreds of billions of dollars. The United Nations Climate Change Conference in Poland met to develop the rulebook countries will use to reduce emissions in the coming years. The Intergovernmental Panel on Climate Change (IPCC) report on limiting global warming to 1.5 degrees Celsius found that we're on track for impacts that are more serious and are coming faster than we may have realized. A recent assessment shows that emissions continue to be on the rise.
More important than the news, climate change is in our lives every day now—bigger wildfires, and their smoke, are affecting millions in the west. More extreme storms are overwhelming our communities and flooding our homes. Heat is causing health problems and driving up utility bills. At one point last year, Phoenix got so hot that airplanes were grounded, and airlines have now adjusted their safety criteria to be able to fly at higher temperatures.
Around the country, infrastructure that has been designed for the stable climate of the past is not keeping up with the sea level rise, intense storms, early snowmelt, and extreme heat that we are seeing today.
"Going forward any infrastructure policy, whether at the national or local level must include an analysis of the serious climate risks identified in the National Climate Assessment. We need to make significant changes to our infrastructure priorities and adapt their design to a changing climate. Our economic future depends on it."
-Kate Gordon, Fourth National Climate Assessment Author and Senior Advisor at the Paulson Institute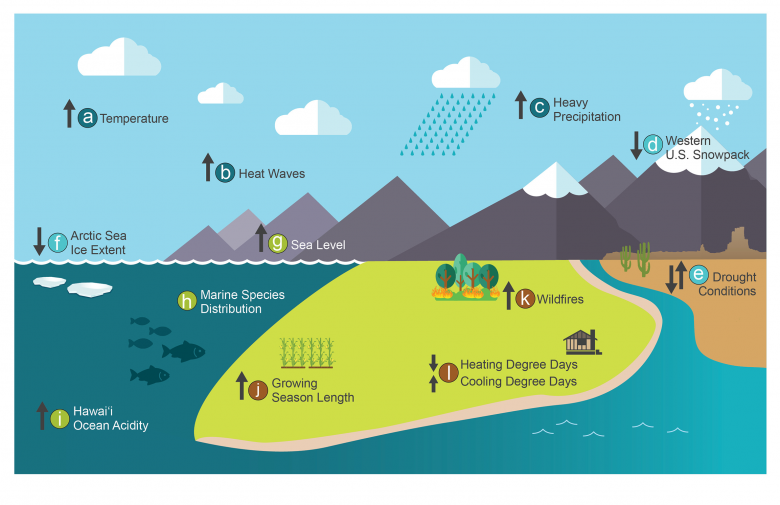 This graphic from the 2018 National Climate Assessment shows some of the many impacts of climate change. Source: Impacts, Risks, and Adaptation in the United States: Fourth National Climate Assessment, Volume II, U.S. Global Change Research Program, 2018. 
Not everyone is affected by climate change to the same extent. Wealthier households have more ability to avoid impacts and can recover more easily. As we respond to climate change we must make sure we are not exacerbating inequality—investments in climate resilience need to happen in communities of color and in neighborhoods of all income levels, not just in economic centers or high property-value areas. Programs need to actively engage vulnerable populations, not just operate on a first-come-first served basis, which often benefits higher-income households. Funds must not be diverted away from crucial social safety net programs to respond to climate emergencies. As we spend money on climate action, we must look at who is benefiting from those dollars—are we making the most of what we have by creating local jobs while we retrofit our buildings and prepare our neighborhoods for heavy rainfall?
The change we are seeing, and the change to come, is creating an "all hands on deck" situation. No one is going to be able to address climate change and its impacts alone. Government, resident, business, and institutional actions are needed. Investments will be necessary on public and private property to expand our infrastructure's capacity to handle the new normal. We will need to treat our cities, with their efficient land use patterns and transportation options, as assets. Notably, many of the climate solutions and innovations happening in the U.S. today are at the local level, a fact that was under-addressed in the National Climate Assessment. If we tackle climate change and its impacts wisely, we'll use cost-effective methods that actually have the potential to save us money while making us more resilient.
CNT's programs are working to address these issues. Examples include:
Want to talk about how CNT can help your community take action to prevent and respond to climate change? Please contact: Jen McGraw, Director, Sustainability Innovation or Drew Williams-Clark, Managing Director, Urban Resilience.