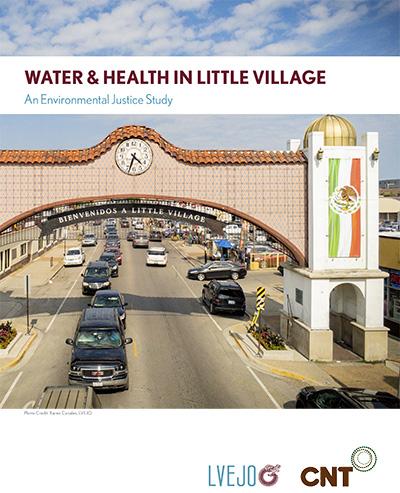 LVEJO and CNT are collaborating on a study to better understand the impacts of drinking water, urban flooding and COVID-19 on Chicago's Little Village neighborhood. The co-written report highlights the disparity in environmental and health burdens experienced by Little Village, and provides policy recommendations developed by LVEJO.
Download Full Report | View Map
---
Findings
Little Village residents have expressed concerns to LVEJO community organizers around:
COVID-19;
Lack clean, running water at home for personal hygiene, cooking, and drinking; and
Polluted rain running off from industrial sites.
This study examines publicly available data for these issues. Little Village is located within Chicago's South Lawndale community area. The study compares South Lawndale to the Near North Side community area, and to Chicago as a whole. Data was available by ZIP Code, rather than by community area, and so is reported for the ZIP Codes that intersect with the South Lawndale and Near North Side community areas. Use the interactive map at the bottom to explore the results.
---
South Lawndale residents experience markedly worse quality of life in the areas of COVID-19, drinking water access, and local flooding as compared to other residents. 
---
COVID-19 Pandemic
South Lawndale has experienced one of the most severe COVID-19 outbreaks in Chicago. Between March 1, 2020 and August 1, 2020, South Lawndale's infection rate was approximately 3.5 times higher than the Near North Side's infection rate. During the same time period, South Lawndale's COVID-19 death rate was approximately 5 times higher than the Near North Side death rate. 
South Lawndale residents have reported serious respiratory health problems during previous LVEJO campaigns. Residents have shared concerns about the relationship between their pre-existing respiratory issues, local air pollution, and worse outcomes if they test positive from COVID-19.  Residents' concerns about the link between pollution and COVID-19 are well-founded — a national study demonstrated a significant link between areas with higher air pollution and higher COVID-19 deaths.
Clean Drinking Water
Until recently, the City of Chicago disconnected drinking water service to homes with unpaid water bills. In a twelve-year period, nearly 3,000 water shutoffs happened within South Lawndale. South Lawndale's water shut-off rate is approximately 52 times higher than the Near North Side. 
In May 2019, Mayor-elect Lightfoot declared a moratorium on drinking water shut-offs at Chicago residences. In July 2020, the City announced the Utility Billing Relief Program to help income-qualified homeowners with water bill costs. No publicly available information has been identified to date concerning the number of households that have had their water service re-connected.
Flooding
In Chicago, most flooding is urban flooding – flooding that happens when the local sewer system cannot cope with the amount of rain during a storm. Over a ten-year study period, South Lawndale residents reported flooding to Chicago's 311 system at a rate 6 times higher than the Near North Side. During the same time period, South Lawndale residents received flood damage insurance payments at a rate 53 times higher than the Near North Side. As described in this 2018 study, overall 87% of the insurance payments in Chicago were made in communities of color.
The Link between Health, Jobs, Water, and Housing
Black, Latinx, and Indigenous people have higher rates of COVID-19 infections and deaths across the U.S. The CDC cites "social determinants of health" as an underlying cause of these persistent disparities.
Healthcare: Latinx individuals have the lowest rate of health insurance coverage of all racial and ethnic groups in the U.S. Research has also documented a lower quality of medical care for people of color.
Jobs: Over half of South Lawndale's working residents are classified as "essential workers" who are unable to work remotely, resulting in greater potential exposure to COVID-19 during the course of their workday.
Hygiene: The CDC has advised people to reduce their risk of COVID-19 infection by practicing frequent handwashing. Yet, not all South Lawndale residents can access clean, running water at their home.
Housing: The CDC guidelines recommend that, if a household member is infected but can recuperate at home, that they should be isolated in a separate bedroom and bathroom. In larger or multigenerational households, it may not be possible to follow this recommendation. Furthermore, if local flooding is so severe that it requires evacuation, residents may have to find temporary housing where COVID-19 prevention practices are more difficult to maintain.
Creating piecemeal polices to address these issues separately fails to acknowledge address the cumulative effects of these burdens, and the history of systemic inequity underpinning them. To repair these harms, there must be an integrated set of strategies that work across the siloes of health, economic well-being, and environmental justice.
Reducing Community Risks: Building a more Resilient South Lawndale
To help South Lawndale's resiliency in the wake of the COVID-19 pandemic and water-issues, there are several policies that can be implemented by the City of Chicago.
Ensure that all homes are reconnected to a clean water supply and permanently halt shutting off water due to household inability to pay water bills.
In the near term, Chicago's Utility Billing Relief program should be restructured to facilitate enrollment and expanded to include renters.
Equitably invest in green stormwater infrastructure and other flood mitigating practices.
Expand research on flood risk management strategies for former brownfield sites.
Chicago should suspend the new hydrant permit requirements, grant permits, and restore immediate water services to Chicago community gardens.
Provide living-wage, family-sustaining job opportunities and security to residents, along with healthy, affordable housing.
Interactive Map