Once named Pierce Park, Avalon Park gained a reputation for its Mud Lake where residents could fish.  The first homes built in Avalon Park were built on stilts to avoid the frequently flooded marshlands. Following installation of a sewage system, Avalon Park seemed more appealing for migrating settlers. Today, Avalon Park is home to 10,071 residents and borders 76th Street to the north, South Chicago Avenue to the east and 87th Street to the south. Its housing stock includes approximately 3,833 homes [1] of which 64.7% are owner-occupied homes and approximately 9.3 % are vacant homes. Nearly 50% of the homes in the community were built before 1924 and 88.3% of the homes were built by or before 1969 [2].
Flooding in the Community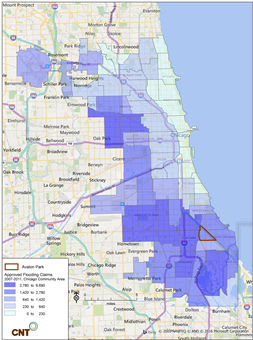 Today, Avalon Park experiences severe and repeated flooding. From 2007 to 2011, 1,428 flood-related insurance claims were filed in zip codes 60617, 60619 and 60649 in Avalon Park, with more than $ 4,356,924 paid out in damages (CNT, 2014).
The City of Chicago has listed Avalon Park as one of the community areas heavily impacted by flooding as a result of the 10 year storm in April 2013 [3]. The image below shows that during the storm, residents across the community had water in their basement or could see water in the street.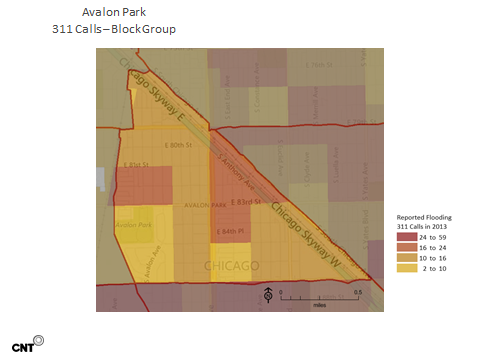 How are Properties Affected?
Our analysis has found that residents and business owners in Chicago experience several types of flooding:
Basement backup from the local sewer system and private lateral lines, impacting several parts of town.
Street flooding from local drainage issues, causing pooling in the street.
Foundation seepage, causing rot and mold in basement walls.
Four main factors contribute to flooding in Avalon Park:
Increasing impervious surfaces: As open lands are converted into parking lots, streets, and rooftops, rainwater finds fewer places to sink into the ground.
Aging sewer infrastructure: As sewer systems age, pipes may collapse or crack, causing local drainage issues.
More severe storms: Climate change is bringing more frequent high-intensity storms to the region.
Flat topography: Most stormwater is directed via gravity. Flat streets in the city create challenges for moving the water out of neighborhoods.
Reducing your Risks
RainReady is working with the communities of Avalon Park, Chatham, South Shore, Pullman, Calumet Park, and Washington Heights to better understand the impact of heavy rain on the communities in order to reduce or eliminate flooding. We need your help! By filling in our online survey, you can help us identify where the flooding and wet basements are occurring, so that we can better target support.
Protecting your Home
Assess Your Property: To reduce risk, you must understand the way water moves across your property. An engineer, plumber, electrician, or landscape designer can help, but often you can identify the cause of flooding by walking the property and taking photos during a storm.
Make Yard Improvements: Plant trees and native Plants to soak up the water in your yard and parkway. Regrade your yard and redirect gutter downspouts so that water drains away from your home.
Manage Water Within Your Home: Prepare your basement for water. Lift appliances off the floor, put valuables in plastic storage bins, and consider investing in a sump pump, backup generator, backwater valve, overhead sewer, or drain tiles.
Get Insured: Educate yourself about insurance policies and invest in the best policy for your needs. Most home insurance policies do not cover flood damage. You can purchase a sewer rider to cover basement backup, or look into the National Flood Insurance Program if you experience riverine flooding. No insurance covers damage from foundation seepage.
Expect and Prepare for Extreme Weather: If the experts predict rain, prepare your home. Clear your drainage areas, secure your windows and doors, and check your sump pump. If you experienced flooding, call your flood insurance company to file a claim. Even if you aren't covered, note the date and time as well as the depth of the water document and photograph items that were damaged, including their estimated value.
[1] Source: 2000 And 2010 Census, 2014 American Community Survey Five-Year Estimates., and *note That All CCA & Regional Medians Were Calculated Based On Grouped Frequency Distributions. "Community Data Snapshot: Avalon Park." 36.6Community Data Snapshot: Avalon Park (2016): n. pag. Chicago Metropolitan Agency for Planning: Community Snapshots. Chicago Metropolitan Agency for Planning, June 2016. Web.
[3] "Community Development Block Grant Disaster Recovery (CDBG-DR) Action Plan Third Substantial Amendment." (2015): n. pag. The City of Chicago, 2015. Web.