The COVID-19 pandemic has impacted communities around the world. However, Latinx, Black, Indigenous, and other communities of color have been disproportionately impacted due to existing social, environmental, and economic factors that make individuals more likely to have worsened COVID-19 outcomes. 
The Link between Land Use, Air, and COVID-19
Racialized land use and lending practices, such as redlining, have disproportionately located heavy industrial development near Black and Latinx neighborhoods. These populations are exposed to higher levels of air pollution than majority white communities, which is linked to higher risk for respiratory illness, including COVID-19 complications and death.
Crawford Coal Plant Demolition
In April 2020, during the first surge of the COVID-19 pandemic, Hilco began demolition of the former Crawford Coal Plant located in the Little Village Industrial Corridor. This demolition resulted in a dust cloud that surrounded residences near the site, severely impacting indoor and outdoor air quality, and disrupted water supply lines, compromising local water smell, taste, and quality. This community which has a history of fighting against poor air quality was left to face the aftermath of a planned implosion that in the short- and long-term may have exacerbated COVID-19 outcomes on the Southwest side.
Historical underinvestment in critical water and sewer infrastructure has led both to water main breaks and urban flooding and to rising water rates in these same communities. Many low- and medium-income households can't afford to pay their rising water bill and have had their water shut off. This has made it difficult to follow health guidelines which advise frequent washing of hands and surfaces to reduce spread of COVID-19 infection.
Reeling from the Blows of COVID-19
Inadequate public resources available to marginalized communities hinder recovery from health and climate catastrophes. Informational materials regarding COVID-19 best practices, mandates, and testing are limited in languages other than English across the nation. The same is true of resources for managing disasters like urban flooding and water disconnection.
---
COVID-19 Research
Initial research by LVEJO and CNT found that between March 1 and August 1, 2020, South Lawndale zip codes experienced a COVID-19 infection rate approximately 1.7 times higher than the city-wide infection rate and 3.5 times higher than the Near North Side's infection rate. South Lawndale zip codes had a COVID-19 death rate approximately 1.26 times higher than the city-wide rate and 5 times higher than the Near North Side death rate.
---
The financial consequences of COVID-19 have distressed communities. Nationally, the Latinx community was particularly hit hard by job and wage loss, and 70% of Latinx individuals were less likely to have access to at least three months of emergency funds. Anti-immigration policies and rhetoric have resulted in mixed status families being less likely to collect unemployment payments or use limited government resources available to U.S.-born children. The loss of employment increases households' risk of eviction, health care debt, and food insecurity, putting already vulnerable families in even more precarious socioeconomic positions.
The insufficient response by local governments has prompted mutual aid efforts by local community members and organizations to support the most vulnerable residents. Community organizations, like LVEJO, have set up water distribution to address the water shut-offs and concern for water quality that thousands in Chicago face.
Distribution Efforts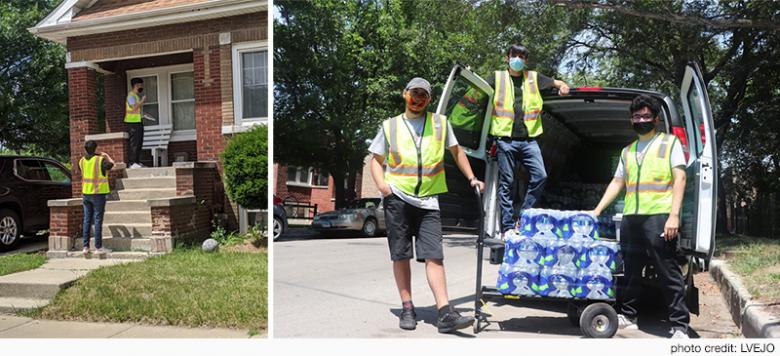 LVEJO distribution efforts have prioritized elderly residents and single parent households to ensure that they have access to basic necessities, like water and filters, since the government fails to serve them adequately. Through LVEJO's outreach and distribution, community members have communicated their concerns about their home's water quality and LVEJO has advocated to the City to improve access to water testing services.
Why Community Organized Research Matters
An individual's zip code should not predict poor health or economic outcomes. Communities like South Lawndale deserve an improved quality of life, with the resources to be resilient in the midst of a disaster and to thrive before and after a disaster. Assessing the ways communities are most vulnerable to disasters, whether flooding events or a global pandemic, allows for tailored prevention and recovery plans to improve household and community resiliency.
Look out for LVEJO communications about next steps and how you can participate in our neighborhood survey to share your experience with COVID-19, drinking water access, and urban flooding. Resident participation is crucial to help LVEJO develop an advocacy strategy that represents the community's needs and desires.