Buffalo's aging infrastructure poses a lead problem. But a one-stop-shop model could unite previously siloed agencies toward a solution.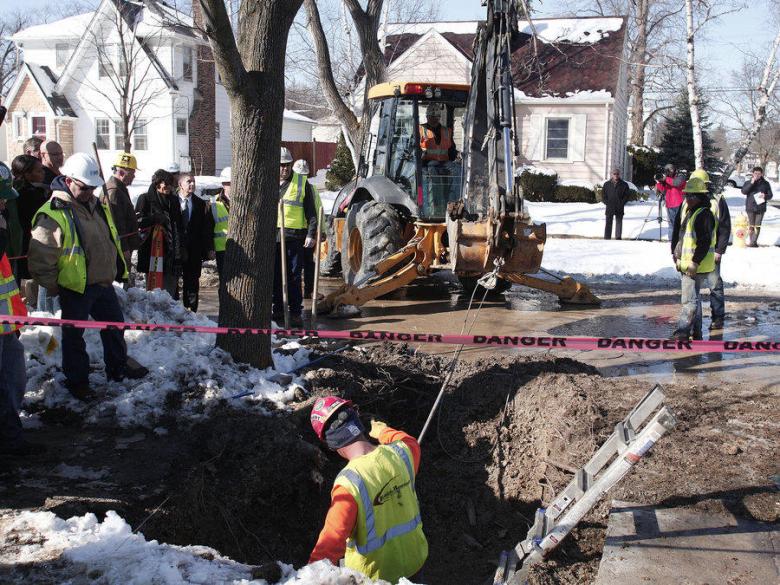 Like many old industrial cities in the Great Lakes region, Buffalo, New York—located on the shores of Lake Erie—has a lead poisoning problem. Children in Erie County, many living within the City of Buffalo's limits, test positive for lead poisoning at rates much higher than New York State average. Given Buffalo's old housing stock—the city has the highest percentage of homes built before World War II of any large city in the US—the primary cause behind elevated blood lead levels in children was thought to be lead paint. However, in the aftermath of the Flint, Michigan water crisis, city and county officials began to take a closer look at exposure to lead from other sources – namely, the home drinking water system.  
The Lead in Drinking Water Infrastructure Problem
Buffalo Water manages both the City's drinking water and distribution system. The water service provider is acutely aware of lead service lines throughout the city, recognizing that one of the most effective ways to remove the risk of exposure to lead in drinking water is by removing lead service lines. Buffalo Water estimates that approximately 60% (41,000) of city resident service lines running from the water main to the home contain lead, and, at a per-line replacement cost averaging $12,000, a full lead service line replacement program would amount to approximately $500 million. Historically, these service lines have been the responsibility of individual property owners, but the health risks associated with lead in water necessitate a fresh look at how to enable the complete, citywide replacement of lead service lines without placing the full cost of replacement on the shoulders of property owners. 
Buffalo Water recently began this replacement process through two new programs that are designed with an eye towards customer affordability. The first program, ROLL – Replace Old Lead Lines –, focuses on leaking or damaged lead service lines, which are identified as presenting the greatest threat to public health. Buffalo Water knows that when a lead service line breaks and is repaired through partial replacement or patch, lead levels spike. This program will fully replace any broken, damaged or leaking lead service line at no cost to the resident. As a complement to ROLL, Buffalo Water is also introducing its HELP program – Help Eliminate Lead Pipes. This will be a voluntary contribution program on customers' water bill of $5, $10, or $25. Customers will also have the option to round up their bill to the nearest dollar amount. Contributions are tax deductible and will go into a fund dedicated for future lead service line replacement efforts.
Over the past few months, the Center for Neighborhood Technology (CNT) worked with Buffalo Water to identify how to support a comprehensive lead service line replacement program building on the steps the City is already taking. Many of the tools we reviewed are commonly employed for water infrastructure investment—grants, water bill revenue, and public loan funds specifically designed for water infrastructure investments, but we also recommend that Buffalo Water look at new ways to bring in both revenue and financing. These include appropriation of funds for lead service line replacement from the State's Water Bottle Deposit program, leveraging Opportunity Zone investments, or selling space on top of water towers or utility buildings. However, even if such tools covered the full cost of a comprehensive service line replacement program throughout Buffalo, the majority of the City's housing stock would still be old; it would still have lead paint and other public health risks caused by poor insulation or structural defects that can lead to damp and moldy basements during moderate to heavy rain events.
A Holistic Approach to Public Health and Home Retrofit Needs
A "one stop shop" program that coordinates water infrastructure with public health investments could ensure that community priorities are addressed in a more coordinated effort, and at a lower cost and faster pace. Agencies and community leaders in Buffalo have already taken action to identify several community investment priorities, as illustrated by the Community Foundation for Greater Buffalo's Green and Healthy Homes Initiative, a retrofit service designed to improve public health outcomes and reduce the overall cost of living (e.g., weatherization services and lead paint mitigation).This initiative is engaged with the Buffalo Urban Renewal Agency, Erie Country Department of Health and several local nonprofits that help deliver home retrofit services. CNT recommends that the existing Green and Healthy Homes Initiative be expanded to engage Buffalo Water and Buffalo Sewer as partners and include lead service line replacement and home-scale flooding mitigation efforts. This expanded "one stop shop" program could coordinate the financing and delivery of a variety of home improvement services, making it easier for the services to be delivered to specific neighborhoods, zip codes, or other prioritized areas. This holistic approach could also save on overall costs while addressing all home-based environmental hazards, accelerating lead line replacement, and ultimately reducing the energy, water, and public health costs for Buffalo property owners and renters.   
Expanding Buffalo's Green and Healthy Homes Initiative might also expand the availability of new financing mechanisms, like social impact investing, or investments that capture a financial return but also produce beneficial environmental or social impacts. Programs including those in health, education, housing, and green infrastructure demonstrate that a combination of grants, loans, and below-market-rate capital financing can produce such innovation.  A lead service line replacement program that exists as a part of a broader home rehabilitation program provides an opportunity to use social impact investing, since the program can have the effect of improving property values and avoiding future health problems (and the associated burdens on the healthcare and education systems and Buffalo's overall economy) caused by lead poisoning in children and asthma. 
It's worth noting that any program that could result in improved housing stock and increased property values should also be paired with affordability programs and other community control policies—like local workforce development policies—to protect against displacement. The City's Workforce Buffalo program, run by the Workforce Investment Board, develops, coordinates, and oversees publicly funded workforce development/training initiatives. The initiative offers "One Stop Career Centers" which provide resources for job seekers and businesses in one place. This type of service would be well-suited to develop the cohort of skilled laborers needed to deliver a comprehensive home retrofit program, as well as address Buffalo's high poverty and un(der)employment rates. 
Buffalo Water has taken great strides to kickstart its lead pipe replacement efforts, and has an opportunity to scale up this effort, by coordinating with programs led by partner organizations that address other aspects of housing rehabilitation—including weatherization, lead paint abatement, onsite, nature-based stormwater management, and others. By aligning with broader City of Buffalo home investment priorities, programs, and needs, Buffalo Water may be able to blend funding sources and be a part of a cohort of groups dedicated to investing in Buffalo's housing stock, preserving consumer affordability, and improving public health outcomes. We see this integrated approach as a model that other cities can use to accelerate the removal of lead service lines as well.
CNT's work in Buffalo is a part of its Great Lakes Water Infrastructure Project which is generously supported by the Charles Stewart Mott Foundation.